National Signing Day: 2013 girl signees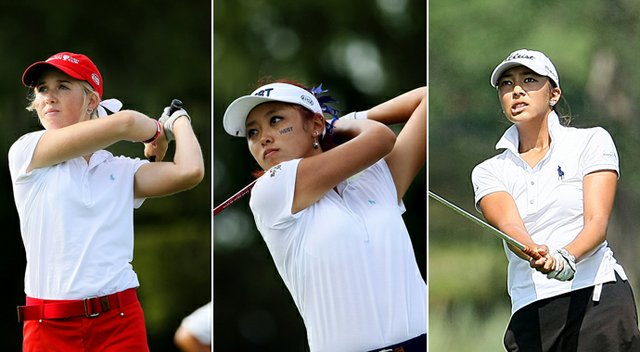 The top junior golfers in the country have begun to pull out their ink pens. The signing period for players in the graduating class of 2013 began Nov. 14, and Golfweek will record the national letters of intent here as they roll in.
To share a signing or signing photo with Golfweek, please email Brentley Romine (boys) at bromine@golfweek.com or Julie Williams (girls) at jwilliams@golfweek.com.
For NLI tweets: @GolfweekRingler, @GolfweekJules, @GolfweekBrent, @GolfweekCassie, @GolfweekSMartin
Players listed below with Golfweek ranking (among class of 2013) as of signing date and hometown:
• No. 2, Alison Lee, Valencia, Calif., UCLA
• No. 3, Casey Danielson, Osceola, Wis., Stanford
• No. 4, Esther Lee, Los Alamitos, Calif., Duke
• No. 5, Karen Chung, Livingston, N.J., USC
• No. 6, Ashlan Ramsey, Milledgeville, Ga., Clemson
• No. 7, Annie Park, Levittown, N.Y., USC
• No. 8, Katelyn Dambaugh, Goose Creek, S.C., South Carolina
• No. 9, Sierra Sims, Austin, Texas, Wake Forest
• No. 10, Alexandra Kaui, Las Vegas, Oklahoma
• No. 11, Elisabeth Bernabe, Anaheim Hills, Calif., Yale
• No. 12, Hee Wook Choi, San Diego, Duke
• No. 13, Jessica Vasilic, Anaheim Hill, Calif., Arizona
• No. 14, Summar Roachell, Conway, Ark., Arkansas
• No. 15, Maria Torres, San Juan, Puerto Rico, Florida
• No. 16, Simin Feng, Windermere, Fla., Vanderbilt
• No. 16, Anne Cheng, Torrance, Calif., Harvard
• No. 18, Lauren Diaz-Yi, Thousand Oaks, Calif., Virginia
• No. 20, Alice Jeong, Gardena, Calif., Cal
• No. 21, Anne Freman, Las Vegas, Santa Clara
• No. 22, McKenzie Talbert, North Augusta, S.C., Clemson
• No. 24, Kacie Komoto, Honolulu, Hawaii, Northwestern
• No. 28, Sarah Bae, Cary, N.C., High Point
• No. 29, Jordan Ferreira, University Place, Wash., Notre Dame
• No. 30, Anna Sophia Bohmer, Colombia, Florida State
• No. 31, August Kim, St. Augustine, Fla., Purdue
• No. 32, Ashley Holder, Orlando, Fla., Central Florida
• No. 34, Lindsey McCurdy, Kyle, Texas, SMU
• No. 35, Sammi Lee, Winter Park, Fla., Georgia
• No. 35, Grace Choi, Dallas, Michigan
• No. 37, Kristine Odaiyar, Ocala, Fla., Central Florida
• No. 38, Julia Beck, Austin, Texas
• No. 40, Sloan Shanahan, Suwanee, Ga., Clemson
• No. 40, Sophia Chen, Thousand Oaks, Calif., Penn
• No. 42, Ayaka Nakayama, Japan, Central Florida
• No. 45, Jessica Hoang, North Augusta, S.C., Clemson
• No. 46, Taylor Totland, Tinton Fall, N.Y., Furman
• No. 46, Monica Vaughn, Reedsport, Ore., Arizona State
• No. 47, Jessica Haigwood, Roswell, Ga., Augusta State
• No. 52, Elizabeth Doty, Palos Verdes Estates, Calif., Wake Forest
• No. 53, Brianna Becker, Las Vegas, Hawaii
• No. 55, Katie Page, Louisville, Ky., SMU
• No. 56, Vivian Chen, Bradenton, Fla., UNLV
• No. 58, Jordan Chael, Overland Park, Kan., Nebraska
• No. 59, Margaret Byers, San Antonio, Texas, Baylor
• No. 60, Nina Fairbairn, Orinda, Calif., Harvard
• No. 61, Madison Talley, Clarksville, Ark., Kansas State
• No. 61, Mikayla Harmon, Chandler, Ariz., Arizona State
• No. 64, Kelly Grassel, Chesterton, Ind., Michigan State
• No. 67, Ji Eun Baik, Newnan, Ga., Mississippi State
• No. 70, Katy Harris, St. Simons Island, Ga., Mercer
• No. 71, Evie Dole, Raleigh, N.C., Virginia
• No. 72, Haley Austin, McDonough, Ga., Mercer
• No. 74, Emily Kurey, Alpharetta, Ga., Louisville
• No. 75, Ali Cowan, Victoria, Texas, Texas State
• No. 76, Maty Monzingo, Trophy Club, Texas, Texas State
• No. 77, Katie Sharp, Kendallville, Ind., Michigan State
• No. 78, Libby Thomas, Midland, Texas, Texas-San Antonio
• No. 79, Olivia Landino, Hermitage, Pa., Western Carolina
• No. 82, Aya Johnson, North Muskegon, Mich., Wisconsin
• No. 84, Grace Howie, Ottawa, Canada, Xavier
• No. 87, Emily Gilbreth, Houston, Houston
• No. 93, Mallory Etcheberry, Wesley Chapel, Fla., Akron
• No. 99, Dana Clary, Cedar Park, Texas, Boise State
• No. 104, Gabrielle Gibson, Temecula, Calif., Wyoming
• No. 108, Morgan Gardner, Parkland, Fla., Austin Peay
• No. 111, Amanda Ploener, Chadds Ford, Pa., Florida Atlantic
• NR, Bronte Law, England, UCLA
• NR, Casie Cathrea, Livermore, Calif., Oklahoma State
• NR, Jacklyn Van Meter, Bowling Green, Ky., Murray State
• NR, Henriette Nielsen, Soro, Denmark, Kennesaw State
• NR, Fatin Amin, Malaysia, Tampa
• NR, Mary Ellen Shuman, St. Simons Island, Ga., Georgia
• NR, Pornvipa Sakdee, Thailand, Kansas
• NR, Rebecca Chandler, Northport, Ala., Alabama-Birmingham
• NR, Hallie Getz, Pierre, S.D., South Dakota State
• NR, Rachel Johnson, Nashville, Tenn., Xavier
• NR, Morgan Kauffman, Knoxville, Tenn., Austin Peay
• NR, Jessica Meek, Carnoustie, Scotland, Missouri
• NR, Sydney Shrum, Cloverdale, Ind., Valparaiso
• NR, Haley Dambold, Highland Village, Texas, Midwestern State
• NR, Sarah Browning, Midhurst, Ontario, Drake
• NR, Bianca Fabrizio, Treviso, Italy, Texas A&M
• NR, Kathlene Mitchell, Mt. Juliet, Tenn., Trevecca Nazarene
• NR, Lacie York, Kingsport, Tenn., Middle Tennessee State
• NR, Samantha Gotcher, Clarksville, Tenn., Middle Tennessee State
• NR, Carly Ray Goldstein, Coral Springs, Fla., LSU
• NR, Kelly Moran, Boulder, Colo., William and Mary
• NR, Raegan Barnes, Choctaw, Okla., Oklahoma City
• NR, Kailey Campbell, Oktaha, Okla., Oklahoma City
• NR, Caroline Goodin, Oklahoma City, Okla., Oklahoma City
• NR, Anna Mikish, Choctaw, Okla., Oklahoma City
• NR, Katie-Lee Wilson, Owasso, Okla., Oklahoma City
• NR, Nadia Majidi, Tulsa, Okla., Tulsa
• NR, Michelle Thompson, Tustin, Calif., California State-Fullerton
• NR, Franzi Voellinger, West Texas CC, Tulsa
• NR, Alexandrea Haun, Mesa CC, Tulsa
• NR, Krissy Peterson, Canby, Ore., Oregon State
• NR, Becca Horner, England, Troy
• NR, JoJo Sottile, Thousand Oaks, Calif., Northern Arizona
• NR, Maria Tonnessen, Norway, Ole Miss
• NR, Ayaka Suzuki, Bradenton, Fla., San Francisco
• NR, Brenna Lervick, Chanhassen, Minn., South Dakota
• NR, Kaitlyn Krzyzanowski, Scottsbluff, Neb., South Dakota
• NR, Noelle Johnston, Mount Prospect ,Ill., Lindenwood
• NR, Jordyn Altenburg, Edmond, Okla., Rockhurst
• NR, Thanya Pattamakijsakul, Thailand, Texas A&M
• NR, Harang Lee, Spain, Georgia
• NR, Ciera Min, Hilo Hawaii, Gonzaga
• NR, Danielle Fuss, Rochester, N.Y., High Point
• NR, Yimeng (Yvonne) Zheng, Bradenton, Fla., UCLA
• NR, Jamie Donizio, Henderson, Nev., Boise State
• NR, Haliee Pieper, Watertown, S.D., Boise State
• NR, Genevieve Ling, Malaysia, Boise State
• NR, Clara Baena, Spain, Auburn
• NR, Taylor Dorans, Erie, Colo., Wyoming
• NR, Brooke Ferrell, Edgerton, Wis., Wisconsin
• NR, Michelle Cheung, Hong Kong, Wisconsin
• NR, Emilee White, Duncan, Okla., Southern Nazarene
• NR, Alexis Guggisberg, Minnewaska, Minn., North Dakota
• NR, Dani DelGreco Grand Rapids, Minn., North Dakota
• NR, Jazmin Haque, Rochester Hills, Mich., Oakland
• NR, Anna Wilcoxson, South Bend, Ind., Western Michigan
• NR, Bethany Galloway, Charlotte, N.C., Western Carolina
• NR, Meaghan Coleman, The Woodlands, Texas, Penn State
• NR, Eji Kwon, Carrollton, Texas, North Texas
• NR, Maggie Ambrose, Springfield, Ill., Illinois State
• NR, Renee Solberg, Wheaton, Ill., Illinois State
• NR, Takashi Murayama, Japan, West Florida
• NR, Kensington Wieland, Knoxville, Tenn., Cincinnati
• NR, Cathleen Santoso, Australia, Oregon
• NR, Claire Jansa, Sioux Falls, S.D., Ferris State
• NR, Jacqueline Faldetta, New York City, Hofstra
• NR, Victoria Snak, Smithtown, N.Y., Hofstra
• NR, Mia Landegren, Sweden, Alabama
• NR, Kelsey Sear, Unionville, Ontario, Canada, Ball State
• NR, Tara Clark, Yorktown, Ind., Northern Kentucky
• NR, Jacqueline Chulya, Bangkok, Thailand, Columbia
• NR, Stephanie Sullivan, East Wilson, N.Y., Siena College
• NR, Alexa Rippy, Clarksville, Tenn., Trevecca Nazarene
• NR, Izel Pieters, South Africa, Mississippi State
• NR, Kimberly Mitchell, Sandhills Community College, Western Carolina
• NR, Hannah Craver, Winston-Salem, N.C., Appalachian State
• NR, Samantha Stewart, Norman, Okla., Wichita State
• NR, Lina Bengtsson, Goteborg, Sweden, Akron
• NR, Saki Ida, Chandler, Ariz., Arizona State
• NR, Yu Liu, Beijing, Duke
• NR, Sara Scarlett, Woodland, Calif., Texas
• NR, Vivian Hsuan Chen, Bradenton, Fla., UNLV
• NR, Katherine Sborov, Pleasanton, Calif., Vanderbilt
• NR, Jisoo Keel, Canada, Stanford
• NR, Emily Joers, Waukesha, Wis., Illinois
• NR, Kelli Rollo, Mont Belvieu, Texas, Houston
Latest Related Headlines