Shaft Month: A decade after NV, Aldila extends its legacy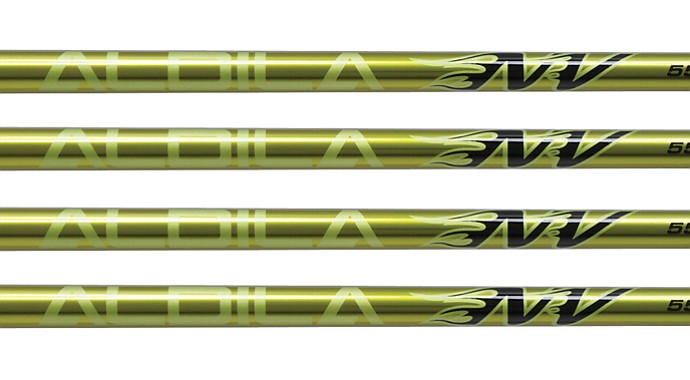 Monday, January 20, 2014
John Merrick, winner of the Northern Trust Open, is 100 percent southern California. He was born there, grew up there, learned to play golf there, went to college there (UCLA), still lives there (Long Beach), works with an instructor there (Jamie Mulligan at Virginia Country Club), and now he has won his first PGA Tour title there.
In capturing the Northern Trust title at Riviera Country Club, Merrick also relied on a graphite shaft manufacturer that has long been identified with southern California. That would be Aldila, which was founded in San Diego in 1972 and became the first shaftmaker to concentrate solely on graphite shafts.
At Riviera, Merrick played an Aldila NV 75X shaft in his Titleist 913D2 driver (8.5 degree), an Aldila NV 85X in his Titleist 913F 3-wood (13.5 degree), and an Aldila NV 105X shaft in his Titleist 913H hybrid (19 degree). He is a longtime user of the NV shaft and serves as a vivid example of the old "If it ain't broken, don't fix it" adage.
The NV, which is painted green for the consumer market, is one of the most legendary graphite shafts ever produced. It was introduced to the PGA Tour in the fall of 2002 and was featured at the PGA Merchandise Show in January 2003. Retail sales commenced in the spring of 2003.
Now, 10 years later, the NV is still being sold in metalwood and hybrid versions. "The NV is easily the largest selling graphite shaft of all time," said Aldila's Mike Rossi, vice president of sales and marketing.
Several factors aided the growth and popularity of the NV.
One was the PGA Tour domination of Tiger Woods and the emergence of the modern power game, as exemplified by Woods. In the hands of skilled golfers, the NV produces a bullet-like, penetrating trajectory. It is a strong shaft for a sport that places a premium on strong shots.
Another prominent element of the NV's success was the introduction of the Titleist Pro V1 golf ball, which appeared on the PGA Tour late in 2001 and became available to the public in 2002.
The Pro V1 was solid and firm – replacing the soft, wound, balata-covered balls that were used by most touring pros – and it was a perfect fit for golfers with faster, more aggressive swings. At the same, the Pro V1 produced enough spin to be manageable around the greens.
Golfers were witnessing the dawn of a new era, and Aldila's NV also became part of the modern picture. It was widely viewed as a thunder stick, a shaft that would help many golfers achieve extra yardage.
In truth, some players with moderate swing speeds played the NV when probably they should have been using a more flexible shaft.
Said Barney Adams, founder of Adams Golf and a homespun golf philosopher, "If a guy is convinced a shaft is going to help him, you're wasting your time trying to talk him out of it. The NV was everywhere. Guys who had no business using it were swinging out of their shoes, trying to hit longer drives. Like I always said, golf is for dreamers."
The NV was all over the PGA Tour, and Ben Curtis used the shaft in winning the 2003 Open Championship. After that, demand went through the proverbial roof.
Aldila, now located in Poway in southern California, was started by golf innovator Jim Flood, who adapted the idea for a graphite golf shaft from the graphite parts that were being used on fighter jets.
Graphite, or carbon fiber, is extremely lightweight and strong. The first attention-grabbing shaft from Aldila was the HM-40, sometimes called the Tour Gold, and it was used by many touring professionals and skilled amateurs.
The HM-40 grew famous because its gold paint invariably began chipping off, leaving a shaft that looked like a two-tone mixture of black and gold.
"Aldila made a significant entry into the Asian market with that shaft," Rossi recalled. "It became a very important shaft. TaylorMade did a great job with that shaft, and it was in the Bridgestone J driver."
The HM-40 contained boron as well as carbon fiber, the belief being that boron aided durability.
Many Aldila shafts have followed, one of the most recent being the Trinity, which incorporates the benefits of three major Aldila design principles – maximum control with the company's RIP Technology, stability with its S-Core Technology, and feel with Micro Laminate Technology.
The Tour Grade Aldila Trinity is the stock shaft in the 460-CC Callaway Razr Fit Xtreme driver.
Next on the Aldila horizon is an assault on the iron category. Aldila's low-torque RIP graphite iron shaft has become a priority for 2013, and John Oldenburg, Aldila's vice president of engineering and product development, calls it "maybe our last great opportunity to grab that better player."
According to Oldenburg, "We view this as the product that will finally give the better player a choice (between graphite and steel in the irons)."
If only the RIP iron shaft can experience some of the magic of the NV metalwood and hybrid shafts.
Golfweek.com readers: We value your input and welcome your comments, but please be respectful in this forum.
---
---
---
---
---
---
---
---
---
---
---
---
---
---
---
---
---
---
---
---
---