Q&A: A look at what is likely to happen to anchoring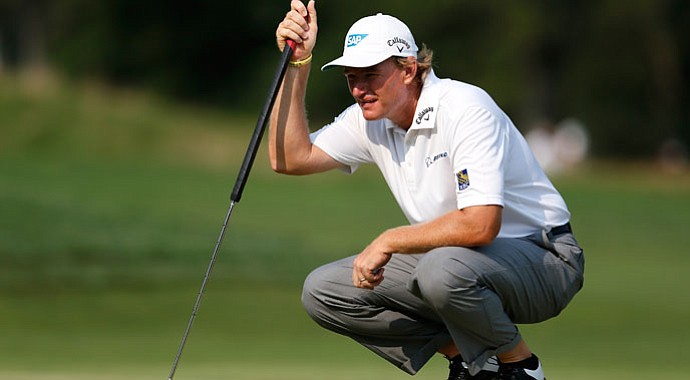 Tuesday, December 4, 2012
Reader poll
Yes, I would favor a ban on anchoring a golf club

51%

No, I would not favor a ban on anchoring a golf club

45%

Doesn't matter, I will use an anchored club anyway

3%
2586 total votes.
Will the 'anchoring' stroke be outlawed as a method of putting?
It's virtually certain. The rules committees and governing boards of the U.S. Golf Association and R&A, golf's rulesmaking bodies, are expected to decide that anchoring any golf club, particularly a putter, is contrary to the intent, spirit and history of the game. An announcement is expected as early as this week.
• • •
Are the USGA and RA still planning their strategy?
Talks are ongoing. Representatives of the USGA and R&A have met in Scotland and Turkey in the past month. They met again in Scotland in late October.
• • •
What is anchoring?
Anchoring is the act of holding any part of a golf club against the body at address and throughout the golf stroke. Under an anchoring ban, the club could not purposely touch any part of the body, other than the hand or hands that hold the club, at address. The definition of anchoring also encompasses any club that doesn't actually make contact with the body but is secured against the body with a hand or fist.
• • •
How would a ban on the stroke apply to long putters and belly putters?
Most golfers who use a long putter or belly putter anchor the putter against the body. The butt end of the grip of a belly putter commonly makes body contact in the area of the abdomen. The long putter typically is secured against the body with a fist in the region of the chest. However, it is possible to use long putters and belly putters without anchoring them. The announcement by the ruling bodies would ban anchoring, which is the method of putting, not the belly putters and long putters themselves.
• • •
Would it affect pros and amateurs?
Yes, although it is unclear whether touring pros would be forced to abandon anchoring before other golfers. This depends on how the rule is implemented.
• • •
When and how would it take effect?
Two possibilities: 1. The anti-anchoring provision could become an official part of the rulebook in 2016. This would give all golfers – pros and amateurs – three seasons in which to prepare. The Rules of Golf is published every four years, and 2016 is the date of the next formal rulebook.
2. A "condition of competition" could be established, allowing the USGA, R&A and professional tours to require competitors to play without anchoring. After a grace period of several years for amateurs, the condition would become a rule for all golfers.
• • •
What exactly would be banned?
Most golfers who use long or belly putters would be forced to alter their putting method or would need to switch putters. Players who rest the putter shaft and grip against the forearm (e.g., Matt Kuchar) would be forced to choose a new method. Sidesaddle putting also would be affected if anchoring is involved. Golfers would not be able to anchor a hand or fist against their chin, shoulders or chest as a means of securing the club during the stroke. However, the USGA and R&A likely can't rule against players who tuck their elbows against their sides (the Billy Casper method). The key to anchoring is the hands.
• • •
Would this interpretation apply to chipping, pitching and other shots from off the putting surface?
Yes. It is likely that the definition of the golf stroke (Rule 14) would be amended to prohibit anchoring in any form, just as strokes such as the croquet, push or billiard have been deemed to be contrary to the historical definition and application of the golf stroke.
• • •
How would any prohibition against anchoring be worded?
This is the tricky part. Nobody wants inadvertent penalties or disqualifications to occur. The language would have to be clear and explicit, although controversies could arise when tournament players first encounter an anti-anchoring provision.
• • •
The long putter, commonly anchored against the chest, has been around for more than 20 years, so why did opposition take so long?
At first, it was used mostly by older players on the various senior tours and did not appear to offer much of a competitive advantage. In the early 2000s, a movement within the ruling bodies to ban anchoring ultimately was dropped. When players began winning major championships while anchoring their putters – Keegan Bradley, Webb Simpson and Ernie Els won three major titles in a recent four-major stretch – this prompted another look.
• • •
Editor's note (added since story publication): It's clear that the USGA and R&A are getting close to a decision on anchoring, at least the PGA of America believes so. Before the turkeys hit the Thanksgiving table, new PGA of America president Ted Bishop sent an e-mail to all of its members with a simple question?
With regards to anchoring a golf club:
a. Yes, I would favor a ban on anchoring a golf club
b. No, I would not favor a ban on anchoring a golf club
How do you feel about the same questions? Vote below!
Reader poll
Yes, I would favor a ban on anchoring a golf club

51%

No, I would not favor a ban on anchoring a golf club

45%

Doesn't matter, I will use an anchored club anyway

3%
2586 total votes.
Golfweek.com readers: We value your input and welcome your comments, but please be respectful in this forum.
---
---
---
---
---
---
---
---
---
---
---
---
---
---
---
---
---
---
---
---
---