Anchoring: Pettersson feels like a man on an island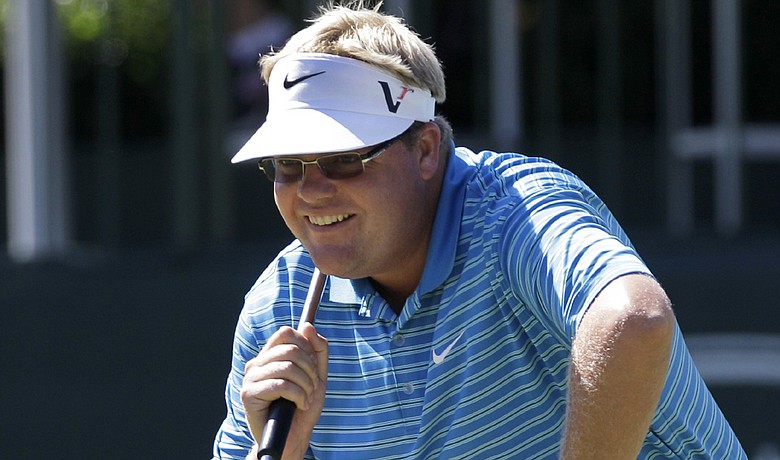 Thursday, January 3, 2013
KAPALUA, Hawaii – The belly/long-putter debate has not cooled since the announcement late last year that the U.S. Golf Association and R&A proposed a ban on the anchoring stroke.
The Associated Press reported Tuesday that Carl Pettersson, who has used a long putter for all 16 years of his professional career, objected strongly to the proposed ban, calling it a "witch hunt" and that it would be silly to outlaw a stroke that has been around for 40 years.
When asked to discuss the tentative ban, announced Nov. 28, Pettersson said Wednesday that he was unwilling to talk much about it.
Many players who anchor a putter against a part of the body think it is not in their best interests to talk about the ban, yet you have to wonder: If they don't, who will come to their defense?
Pettersson thinks the players who use belly or long putters are in this fight by themselves.
"If they didn't use a short putter, why would they care?" Pettersson said of the four player members on the Policy Board who likely will vote on the issue at some point. "It's a selfish game."
It's possible that the PGA Tour might move quicker than the USGA or R&A on the proposed ban, which would take effect Jan. 1, 2016, with the next issue of the Rules of Golf.
Pettersson thinks the Tour should stick to the date that was set by the USGA and not make it earlier.
Either way, Pettersson is tired of talking about anchoring, but the topic won't go away any time soon.
• • •
CHANGES FOR SIMPSON: Webb Simpson comes to Maui with almost a completely new bag of equipment. He has transitioned to the new Titleist 913 driver and 3-wood and added a new hybrid, AP2 irons and the 2013 X ball.
It's a huge departure for a player who rarely makes equipment changes.
"The more I used these irons, I realized it's a better iron," Simpson said. "Mis‑hits go further, there's more club there, and then my woods: I love my woods to death, but I was seeing better results with these and put them in play. I'm hitting them a little further, too."
Simpson made the change after a visit from the Titleist tour reps in the off-season in Charlotte, N.C.
The reigning U.S. Open champion also will face a change on the bag. Caddie Paul Tesori underwent surgery recently on his right shoulder and won't be back inside the ropes until at least the WGC-Accenture Match Play on Feb. 20-24, but more likely at the WGC-Cadillac at Doral on March 7-10.
Step in Adam Hayes, Jonathan Byrd's caddie. Byrd had surgery on his left wrist in October and won't be able to hit balls until early February, with a return unlikely until mid-March, during the Florida Swing.
"I think they're similar personalities," Simpson said of Tesori and Hayes. "I think Adam and I have already bonded really well the last two days. I knew him pretty well through J‑Byrd. He and I are good friends. I think it'll be an easy transition."
• • •
DRIVABLE PAR 4s: Players could face a couple of changes at par 4s this week at the Plantation Course. The tees at the sixth and 12th holes might be moved up during the week, according to a notice that the Tour posted in the players' locker room.
The 398-yard No. 6 hole might be shortened by as much as 20 yards, making the green more reachable for the field.
The 420-yard 12th could play 40 yards shorter, potentially drivable at a Plantation Course conducive to 400-yard tee shots.
The potential changes depend on the weather conditions.
• • •
SHORT SHOTS: The hills of the Plantation Course will prompt the Tour to use carts to shuttle players on six of the first 10 holes this week. . . . With three more players in the winners-only field – up from last year's 27 – the winner's check for the 2013 Hyundai Tournament of Champions has increased from $1.12 million to $1.4 million.
Golfweek.com readers: We value your input and welcome your comments, but please be respectful in this forum.
---
---
---
---
---
---
---
---
---
---
---
---
---
---
---
---
---
---
---
---
---