College Men
Men's spring preview: Big South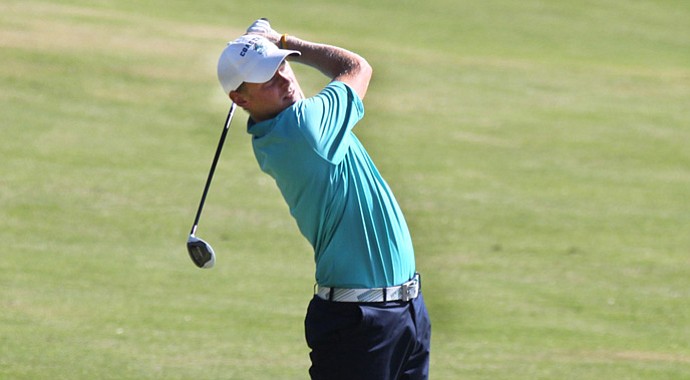 Thursday, January 10, 2013
Seven.
That's how many consecutive years Coastal Carolina won the Big South Conference Championship before Liberty won the past two.
"It was great going to the conference championships, and knowing you were going to play in an NCAA Regional," said Allen Terrell, head coach and director of golf at Coastal Carolina. "No disrespect to the other teams in the conference, but for the longest time, there was no competition."
That seven-year run, which lasted from 2004-2010, by the Chants was due to the notable players that came through the program. Six-time PGA Tour winner Dustin Johnson played on the team from 2004-2007, and Zack Byrd, who now plays on the Web.com Tour, was part of that streak, too, from 2005-2009.
That has all come to an end now. Liberty has taken the last three individual titles, and the last two team titles.
Terrell thinks it could be different this year.
Senior Sebastian Soderberg of Ojersjo, Sweden, is one of those players who could turn it around for the Chants. He is a two-time Academic Big South honoree who has improved his golf game tremendously since his freshman year.
"He is one of those guys you want your players to end up like," said Terrell. "He leads by example, and works a lot on his game. He models a perfect work ethic."
The lone senior, No. 103 in the Golfweek/Sagarin Rankings, Soderberg finished T-3 at the Gene Miranda Invitational. In that round he had five straight birdies, including a run were he birdied six of eight holes. He had two more top-10 finishes in the fall.
"Each year here (at Coastal Carolina) there was a possibility to develop, and I feel like I have done that each year," said Soderberg.
His goal for the spring is the win, sooner rather than later, but he wouldn't mind waiting to win the Big South Conference championship as an individual and as a team.
"We have to bring our best golf to conference in order to achieve our goal," said Terrell.
The Big South is a mid-major conference who has three teams within the top 100 of the Golfweek/Sagarin Rankings.
"It's a conference that most people didn't keep an eye on before, but now it's a different, and it will definitely be competitive this spring with three teams that could really win," said Terrell.
• • •
Where it stands now
Top of the class: Liberty
Best player of the fall: Chase Marinell, Liberty
• • •
Past champions
2012: Liberty
2011: Liberty
2010: Coastal Carolina
2009: Coastal Carolina
2008: Coastal Carolina
• • •
Conference Capsules
Liberty (Golfweek/Sagarin Ranking: No. 18)

Liberty won the Rees Jones Intercollegiate by 24 strokes. Posted three other top-five finishes in the fall.

Coastal Carolina (No. 47)

Finished T-2 at the Gene Miranda Invitational Hosted by Air Force after the lone senior, Sebastian Soderberg, finished T-3. The Chants also finished in third at Windon Memorial Classic Hosted by Northwestern. In the last two tournaments of the fall, the Chants had mediocre finishes (T-6 and 7th).

Winthrop (No. 82)

Had an all-around good fall season. Started with a T-3 at the Dash Thomas Memorial, a fifth-place finish at both the Rees Jones Invitational and the AutoTrader.com Collegiate. Winthrop really clicked at the Wendy's Kiawah Classic when the Eagles finished second in a 26-team event.

Radford (No. 138)

Lead the Joe Agee Invitational after the first and second rounds, but Big South rival High Point came back to defeat the Highlanders. Junior Callum Tarren finished in second, while senior Weston Eklund finished another shot back in third. They were in second place after the second-round of the ODU/OBX Invitational, until faltering to fourth.

Campbell (No. 170)

The Camels were on pace to win the Golfweek Program Challenge, but after a high number on the final day, they slipped back to eighth place. In the middle of the season, they struggled. They ended up with a decent finish at the Wendy's Kiawah Classic, eighth out of 26 teams.

High Point (No. 174)

Highlight of the season was coming from behind to win the Joe Agee Invitational in Williamsburg, Va. They won by a single shot. Senior Chase Wilson had an outstanding fall. He won the Donald Ross Intercollegiate and the Joe Agee Invitational.

Charleston Southern (No. 187)

Junior Ross Thomson was the standout for Bucs this fall. He finished in the top 10 two times in four tournaments, including a third-place finish at the BSU Dash Thomas Memorial. That's where the team's best finish was, too, a tie for seventh.

Gardner-Webb (No. 191)

Won its first tournament of the fall, the Raines Development Group Intercollegiate, by four shots. Senior Daniel Kim and sophomore Matt Yelverton finished in a tie for medalist honors. After that top finish, Kim went on to finish in the top 10 in four of the Runnin' Bulldogs next five tournaments..

Presbyterian College (No. 228)

Finished sixth at the Donald Ross Intercollegiate. Sophomore Samuel Jackson was the low player for the Blue Hose in all four tournaments. His best finish was 11th at the Mimosa Hills Intercollegiate.

Longwood University (No. 260)

Slow fall for the Lancers. Finished seventh at the Joe Agee Invitational. Christian Rivera only played two tournaments, but finished second at the Hampden-Sydney Invitational.

Conference championship

Big South Championship, April 21-23, The Patriot Golf Club, Ninety Six, S.C.

Lance Ringler's prediction

Liberty. Last year Liberty just about shocked the college golf world with an appearance in the match-play portion of the NCAA Championship. Liberty has won the past two Big South Conference titles and this year's squad returns plenty of experience with four players that competed at Riviera a year ago.
Golfweek.com readers: We value your input and welcome your comments, but please be respectful in this forum.
---
---
---
---
---
---
---
---
---
---
---
---
---
---
---
---
---
---
---
---
---